What is an MSP?
An MSP (Managed Service Provider) is a company that provides a variety of IT services to businesses, such as monitoring and maintaining computer systems and networks, managing software and hardware upgrades, and providing network engineering and cybersecurity solutions. MSPs typically operate on a subscription basis, offering their services for a fixed monthly fee. This allows businesses to outsource their IT needs, rather than maintaining an in-house IT department.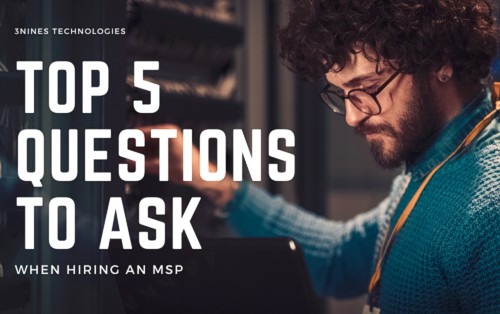 However, one of the service provided by MSP is Co-managed IT services, which is a type of service in which the MSP works together with a business's internal IT team to provide a range of IT services. In this model, the MSP acts as an extension of the business's internal IT team, providing additional resources, expertise, and support to help manage the business's IT infrastructure, such as network management, security, data backup and recovery, help desk support, and more. This approach allows businesses to leverage the expertise and resources of an MSP while still maintaining control over their IT operations.
Top 5 Questions to Ask When Hiring an MSP
What services do you offer?
It's important to know exactly what services an MSP can provide, so you can ensure that they can meet your specific needs. Some MSPs may specialize in certain areas, such as IT security or cloud services, so make sure to ask about their areas of expertise.
How do you handle support and maintenance?
You'll want to know how an MSP handles support and maintenance so that you can be sure that your IT systems are always up and running. Ask about the MSP's response times, as well as their procedures for handling and resolving issues.
What is your experience?You'll want to know about an MSP's experience, so you can be sure that they are well-versed in the latest technologies and industry best practices. Ask about their client base, as well as any certifications or awards they have received.Whatever it is, the way you tell your story online can make all the difference.
How do you keep our information secure?
Security is a top concern for businesses, so you'll want to make sure that an MSP has robust security measures in place. Ask about their network security protocols, as well as their disaster recovery and data backup procedures.
How do you communicate with your clients?
Communication is key when it comes to IT support, so you'll want to know how an MSP communicates with their clients. Ask about their notification and reporting procedures, as well as their communication channels.
By asking these questions, you can be sure that you are hiring an MSP that can meet your specific needs, and that you will have a positive experience working with them. For more information about IT support for your business, click the contact us button at the bottom right corner.
Or, you can give us a call at 405-488-8000 ext. 111.